New Earth held a course in June/July 2014 to discover in person some of the principles of Ceramic Houses, by building a small Rumi Dome at the Caravanserai gardens in Canning Town, London. The workshop was attended by students and enthusiasts from London and Europe who built the 3 metre structure over three weekends.  Following traditional dome building concepts, the group developed further innovations for speed and simpler connections. The dome fused dry pack techniques which rely on gravity, and integrated ceramic glaze (earthen ochre mix) during construction. The form was elliptical and used two compasses. Though it was planned to fire the dome at the end, like many research projects, this stage will be a chapter for the next project, due to certain on-site logistics. The dome is sound and strong in its un-fired state, as the brick were pre-fired ceramic; it is a testament to the success of the construction innovations, and is being enjoyed by visitors to the Caravanserai.
The pot-luck lunches shared good food and tea hospitality from local residents, in Caravanserai's oasis of humble, natural serenity, amidst the noise of traffic and high-rise apartments hastily being constructed all around.  Every time the London rain poured down suddenly, the group ran across the road to the cafe for a theory class. And at the end of a long day, inspiring frame-drum (daf), gajda, and ehru music from Khaled Hakim and his band, gave the team energy for dancing, gymnastics, and soccer in the sand. Between new friends and brothers, we are sure some long lasting friendships were formed.
 Click here for more information, photos and news feeds from this event and others on Facebook.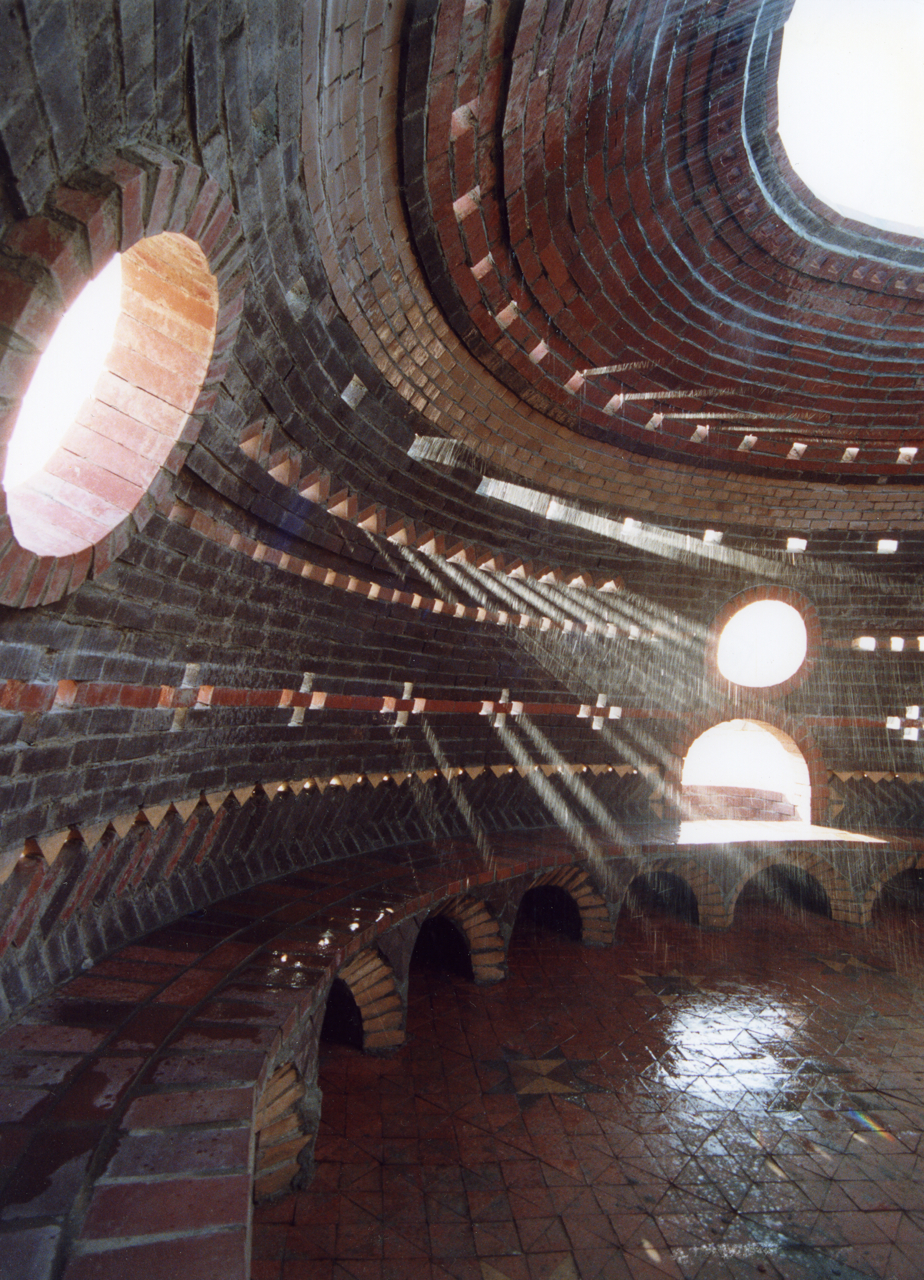 Above: Rumi Dome, Cal-Earth Institute 1992 (photo Iliona Khalili/Cal-Earth)
"The importance of that structure is that it is created from only one point in the center—the center of [the] compass. The center of compass is when you create a circle which is the base of the structure.  And as you move up, you just keep going around. You can lay bricks, blocks, adobe, anything—and let the light in different seasons and different times of the day enter through these lacy openings, like thousands of eyes that see through these holes. The light will enter. Rather than putting in a huge picture window, each one becomes an eye. You see that what you've really created is not this "dome." It is something that one unity at the center has created. And that center, that one dot, is where the sound will concentrate, right at the center. If you stand at that center, you will have an experience that no one else will have.  So in the light, the sound, the energy, the physical entity of that building, there is a unity throughout that comes from that one point. And that one point is the point also that is the creation of  the whole solar system, the galaxy."  –  architect Nader Khalili