City Farms and Community Gardens
Last week, Andreas and I took the chance on a sunny London day to cycle through the city and visit a number of central community gardens, This was to both distribute posters for our upcoming shelter workshop in Shropshire and to start up a dialogue with people and places that are putting into action similar thoughts to ours – community living, permaculture philosophy, structures that work with the landscape and sustainable living in any environment – particularly relevant as they are achieving this in a dense urban environment utilizing small, in-between spaces. Seek out city farms and gardens near you.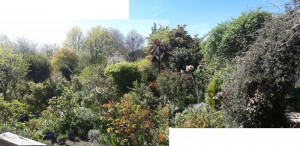 We met at Culpeper Community Garden, who kindly let us borrow some office equipment to prepare the posters. There was an amazing amount of plants within this secluded and tranquil place with winding paths that disappeared into the thick, diverse foliage, the air smelled sweet and we forgot the bustle of city road cycling immediately.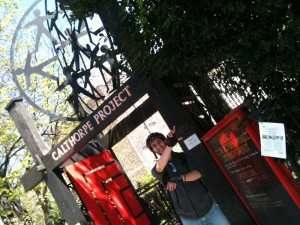 The next one was Calthorpe Community Gardens. A great place with all sorts of people and activities happening, we were met by a man sitting at the entrance bridge who directed us round. They are in the process of building a large cob oven with an outdoor kitchen area, looks like a great place to meet. An earthbag seating area or talking circle would work brilliantly there and people were enthusiastic about this idea. The wonderful lady that took us around the gardens has a great project in mind –to build a small shop from which to sell produce and plants, they already have a circular base from an old sun dial now shaded off from working by larger shrubs and trees, an ideal platform for a small dome – a perfect little shop! She also showed us the little pond in an area behind the greenhouse and their new bees.

A little while later we arrived at a brilliant garden, Camley Street Natural Park, situated between the grand union canal and Kings Cross station. We found a spot by their outdoor eating area, equipped with two cob ovens where we sat to enjoy the pleasant environment and enjoy the sun for over an hour, they also had a large pond with marshy area and paths to peaceful little spots to sit and contemplate, and we saw some good potential spots for workshops!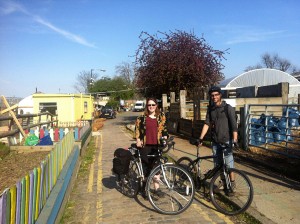 We then cycled over to Spitalfields, a oducing garden with animals and polytunnels, a kids area, fire-pit and yurt. As we pinned our poster up, two big pigs grunted by followed shortly by a small flock of sheep. This is where we met up with Iliona before discussing the day over dinner in Brick Lane.It was such an inspiring day, visiting some exciting and peaceful hidden pockets of happiness near central London. Everybody we spoke to was enthusiastic about New Earth and the potential of further contact with us. A finishing thought that we discussed over dinner; a quote from Nader Khalili's book 'Sidewalks on the Moon':
'No one can prove there is a meaning to life. I must make my own life meaningful, that is all.'